About ADAQ Asia
---
ADAQ is the next generation financial information market that facilitates and accelerates pre-listed high growth emerging companies to connect with and access to potential investors and synergic companies. It serves as a stepping stone for companies to enter the international capital market such as New York Stock Exchange (NYSE), NASDAQ, Hong Kong Stock Exchange (HKEC) etc. Our vision is to reshaping corporate values for tomorrow's sustainability in New Asia. We aim to facilitate high-growth emerging companies to achieve sustainable development internationally by following the guidance of ADAQ's "Best Practice in Corporate Value Building".
Why Join ADAQ
Assembly Community
A platform to gather professionals, investors and project owners.
Identify Business Values
Identify the core values of business that could drive future growth.
Promote Business Values
Provide a platform to showcase business values and to obtain international business matching and resources.
Market Info and Trending News
Provide trending news and information on the international financial market.
Investment Opportunities
Discover valuable investment opportunities for business expansion.
Recognition and Visibility
A platform to recognize your corporate value which helps to enter international capital market.
Expand Business Networking
Connect and exchange experience with leading experts, professionals in the industry to expand business networking.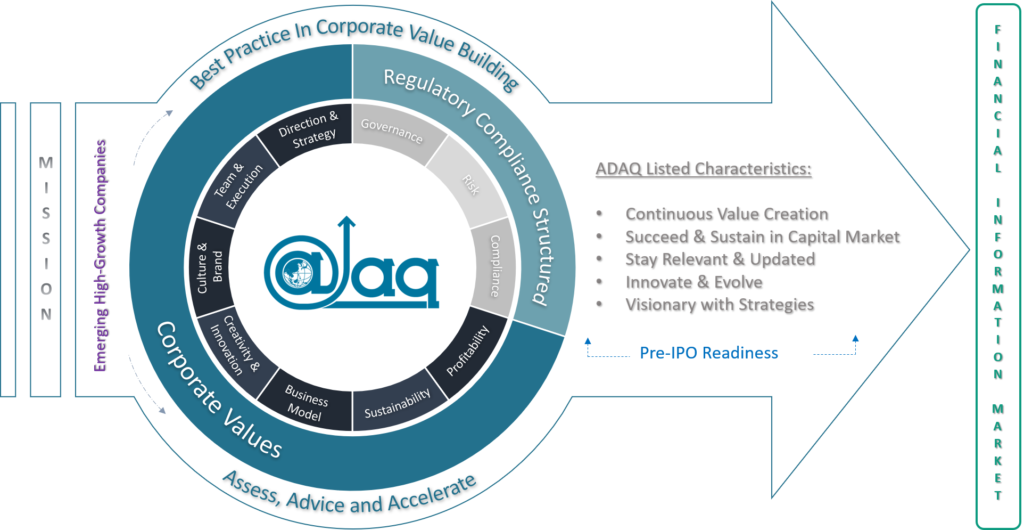 Our Certificate